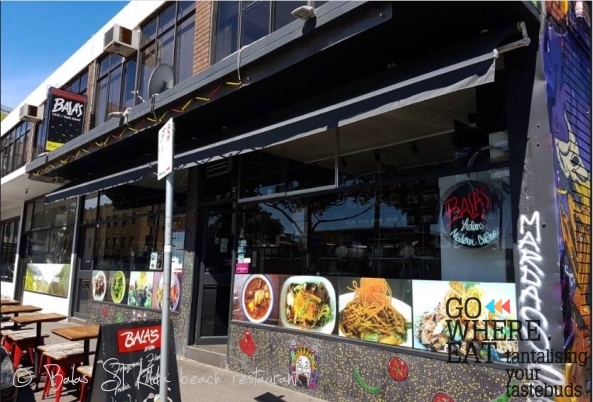 Would you return to this place?
Based on 1 review(s)
Operation Hours
Mon-Sunday : 12:00 pm - 9:30 pm
Additional Information
Bala's St Kilda beach restaurant is one of the best places to eat in St Kilda, Melbourne. If you love Indian, Thai or Malaysian food, then we welcome you to our restaurant. Our food under these cuisines is simply unmatchable by any place in Melbourne. We are exciting the taste buds of connoisseurs for more than 25 years and mesmerising them with our sumptuous curries, stir fries & a range of vegan dishes.
If you are a vegetarian and do not eat any non-vegetarian food, then also we got numerous vegetarian dishes to amaze you. Our Veg samosa, Thai prawns, Yellow Tofu, Mee Goreng, Roti Chanai are famous in Melbourne and it is among the hot favourites of our customers.
Apart from our variety of Indian, Thai and Malaysian cuisines, our restaurant offers admirable services. We deliver fresh and tasty food right to your home in St Kilda, Melbourne. At our restaurant, you can also opt for our takeaway facility and enjoy your food wherever you prefer.
Bala's St Kilda has a team of expert chefs who are very well versed with the ethnic spices and flavours of India, Thailand and Malaysia. It makes us able to deliver you the original taste of these cuisines. We use good quality ingredients that are fresh and good for your health.
Bala's St Kilda welcomes you to our beautifully located restaurant, very close to St Kilda beach and Luna Park. Where you can have an awesome time with your family and loved ones while enjoying our food. So reserve your table for our St Kilda restaurants on the beach, we are available to serve you 7 days a week from 12 pm to 9:30 pm
Cuisine
Indian Cuisine
Others
Thai Cuisine
Type
Beverage
Dessert
Fruit
Noodle
Pasta
Porridge
Rice vermicelli (Bee Hoon)
Spice and Herb
Vegetarian
Food Name
Chee Cheong Fun
Curry and Assam
Dim Sum
Pizza
Salad
Steak and Grills